Athletics
Improve your fitness with athletics at Chelmsford Sport and Athletics Centre (CSAC).  Our indoor and outdoor facilities are available for all your needs.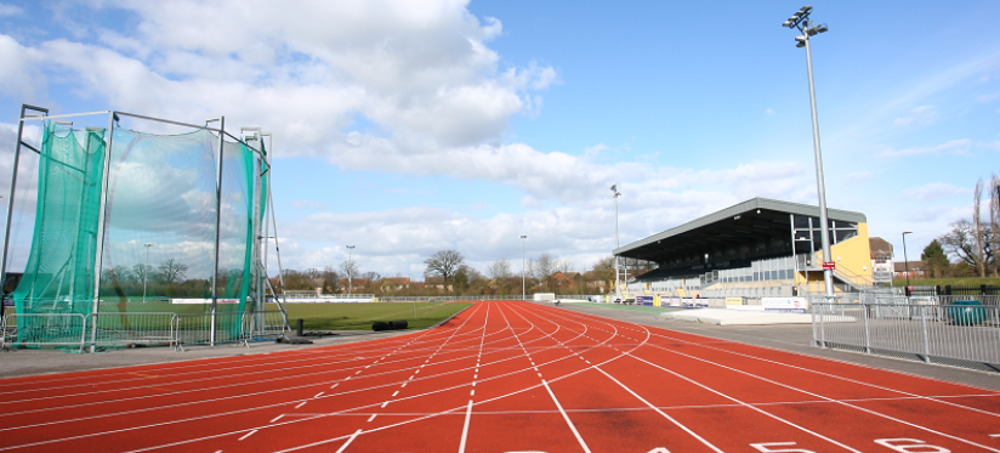 On your marks, set, go! Our indoor and outdoor athletics track and field facilities offer a fantastic space to train for a competition or just to practice technique.
Our indoor facilities include:
a six-lane 60m sprint straight 
long jump and triple jump practice areas 
high jump and pole vault practice areas 
Our outdoor stadium has: 
an eight-lane synthetic all weather track 
field event practice areas, including a throws cage 
Peak times
Monday to Friday: 7am to 9am, 5pm to 10pm
Saturday: 8am to 12pm
Sunday: 9am to 12pm
Off peak times
Monday to Friday: 9am to 5pm
Saturday: 12pm to 6pm
Sunday: 12pm to 9pm
You must have an ourChelmsford account to book and attend the athletics track, even if you are not a monthly member and you don't live in Chelmsford.
We recommend that you book athletics in advance. You can get a ticket on the door, however we cannot guarantee availability. Coaches also need to book in for the session.
You can book in advance:
If you are booking the outdoor track, you can only train outside and cannot use the indoor facilities.
If you are booking the:
long jump, you should use Lanes 1 and 2 only
sprint lanes, you should use Lanes 3 and 4 only
pole vault, you should use Lanes 5 and 6 only
There may be restricted use if the indoor track, so we ask that you co-operate with other athletes. If you have an indoor booking, you are also allowed to use the outdoor track.
Advanced booking
If you are a monthly member, you can book up to 10 days in advance
If you are an ourChelmsford Plus cardholder, you can book seven days in advance
If you are an ourChelmsford Lite cardholder, you can book two days in advance
Monthly members
You will need to book a session in advance
You will need to check in for your session at reception
If you do not check-in, we will charge you the full amount for the session
Make sure that you have registered your email address with us in order to book online
If you can't attend a session that you have booked onto, you must cancel at least two hours before it starts.
You can cancel online or via the app, or by phone.
We will charge you the full amount for the session if you do not cancel in time, or if you do not attend. This includes monthly members.
If you want to use a locker, you will need a £1 token from reception to release the key. You will get the £1 back when you return the token. 
There is a male group changing area and a female group changing area. 
Accessible changing is available. 
Athletes will either need to train with:
a coach qualified in the discipline you are training in
someone that a qualified coach has identified as a competent person
These conditions will apply if:
you are under 17
you are training in an event that carries a risk of accident to yourself or others, such as pole vault and throwing events 
If you are a coach, you will need to become a Lite card member, to join your athlete at their booked coaching session.
You will also need to bring your coaching licence with you the first time you coach at CSAC. We will ask you to complete a form so we can log you on to our system.
If you want to register someone as a competent person to supervise in the absence of a coach, you need to call the Centre.
We will refuse entry to any:
athlete who does not meet these conditions
coach or competent person who does not identify themselves appropriately
Chelmsford Sport and Athletics Centre (CSAC) plays hosts to the Chelmsford Athletics Club.
The club caters for every standard of athlete, from beginners to senior level and offers a full coaching programme.  
Club members of all ages compete at a variety of different disciplines including track and field, road races and cross country.  
Our coaching services include:
breakfast clubs

lunchtime sessions

after school clubs
We can provide equipment and resources to deliver the activities, and will work alongside your existing scheme of work if we cover any lessons. 
All of our coaches are qualified, with a DBS check and insurance.
Please contact the centre online or call 01245 605666 for more information, or to book sessions.
Other athletics activities
You may also like...