Accessibility at CSAC
Chelmsford Sport and Athletics Centre (CSAC) is a major sporting venue with first class indoor and outdoor athletics facilities. It provides significant opportunities for elite athletes as well as the local community.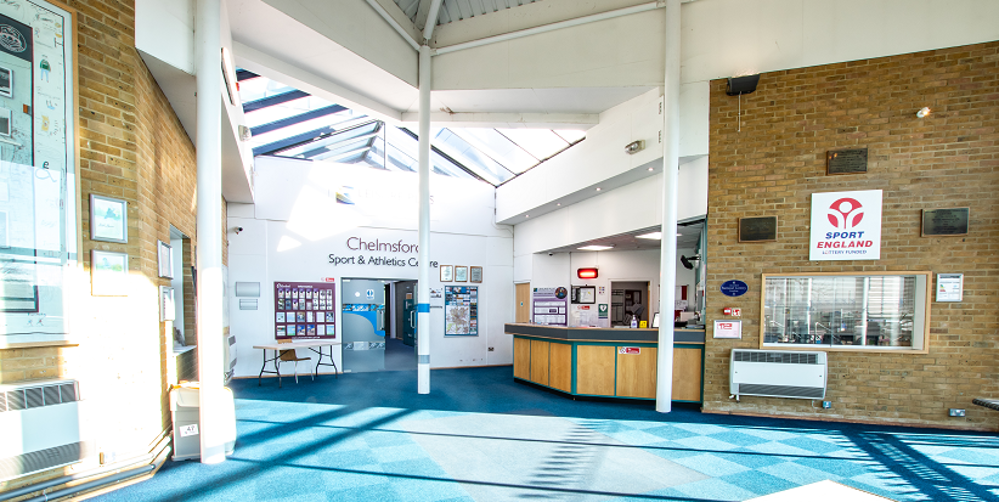 Parking 
We offer 17 extra wide disabled parking bays at CSAC. 12 of these are positioned adjacent to the sports centre.
Access into the centre 
Our centre has a sloped ramp for entrance and exit, with no barrier, to ensure easy wheelchair entrance and exit. Our reception desk is multi-level to allow easy access for all users.
Movement around centre
We have wide access and entry and exit routes throughout the centre.
The centre has level floors all around the ground floor, as well as easy access male and female changing rooms on the ground floor, including an accessible changing and shower room/toilet. This is accessible by radar key; alternatively, please ask at reception if you need to use this.
Hearing impairments
We operate a hearing loop throughout the centre; please speak to reception.
Visual impairments and assistance animals
We welcome assistance animals in centre to assist their owners.
Changing and toilets   
Dry changing rooms
Our changing rooms are located on the ground floor, past reception and on the right-hand side. We have a full Changing Places unit accessible by radar key. Please ask at reception if you require help with or access to this.
We also offer large, lower level lockers in our changing rooms.
Toilets
We have accessible toilets in both male and female changing, as well as the Changing Places unit.
Athletics facilities
Our athletics facilities are available for all to use. Wheelchair athletes can use all our athletics facilities and we have fixings for seated throws.
Gym
The adjustment handles are bright yellow on most machines to aid visually impaired customers. In addition, we have 2 top Xcite machines which are wheelchair accessible, 2 recumbent bikes and a rower for those with some mobility problems.
Studios
We have a lift located at the end of the corridor next to the athletics track, which allows access to our Gym and fitness class studio and meeting room.
Eating area
Our ground floor eating area is positioned next to the indoor athletics track and vending machines in our reception area, allowing easy access.
Accessible and extra sensory sessions
We aim to make our classes accessible to all and welcome customers to attend with carers if required (carers attend free of charge).   
We also offer a variety of accessible and extra sensory sessions.