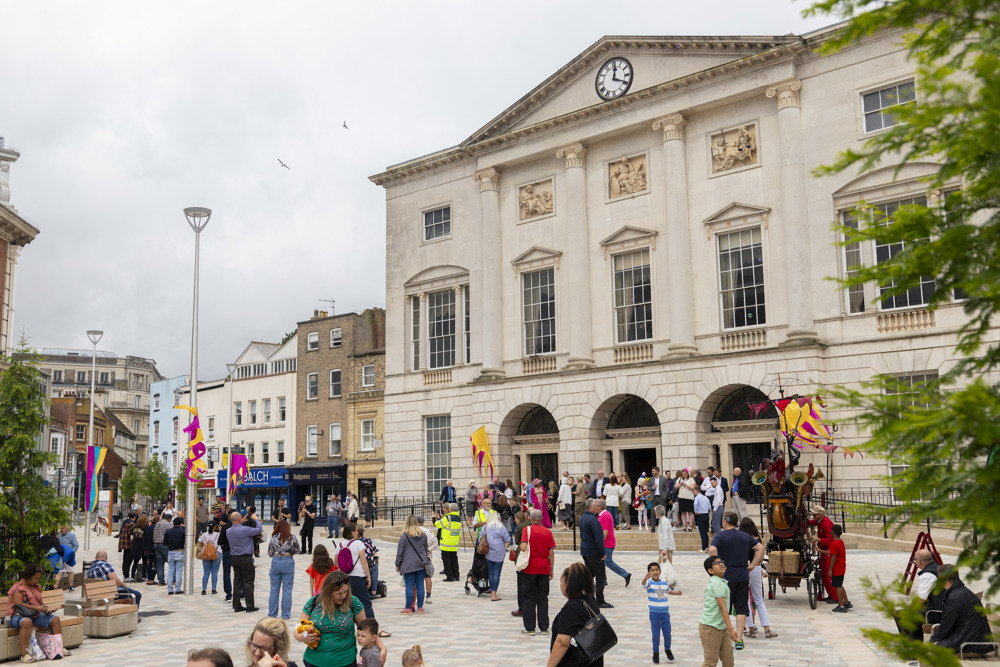 We want Chelmsford to be a culturally ambitious place, with a vibrant future. This includes a space where our wellbeing, environment and creativity can take centre stage in helping to transforming people's lives.
The transformation of Tindal Square is a major investment in the city centre and creates a new civic space. We are keen to see it used for a variety of innovative and enriching activities, which will help us to achieve the district's cultural ambitions.
Anyone can apply to book Tindal Square, However, we will give preference to requests that complement the aims of our cultural strategy and all applications must meet the criteria for hire.
The space is available to event organisers and groups looking to provide appropriately scaled and high profile activities and/or events. These events must prioritise a positive cultural or social impact.  
Activities and events in this space should complement:
the cultural and historic setting
the area's brand
the need for circulation of the large numbers of people who visit the High Street
The space will focus on hosting higher profile events/performances. We will consider your application favourably if you can show how it will add to visitors' experience.
We will also consider commercial bookings. However, we will prioritise applications that include a positive cultural or social impact and/or support our cultural strategy.
The hirer is responsible for providing and managing their own infrastructure for any activity within Tindal Square. 
You must be able provide:
public liability insurance (minimum of £5 million)
PRS licence, if required
risk assessment (if appropriate)
event management plan (if appropriate)
If you would like to use Tindal Square for an activity, festival, or event, you can submit an application online.
You will need to read the criteria for hire and you should submit your application at least eight weeks in advance.
Our process has two simple stages, an expression of interest and then a more detailed application stage.
Firstly, you need to tell us about your planned activity, such as your aims, objectives and target audience.
If we accept your application, we will give you in-principal approval. You will then need to submit final paperwork by an agreed date. 
The final paperwork will include:
public liability insurance (minimum of £5 million)
PRS licence, if required
risk assessment (if appropriate)
event management plan (if appropriate)
Once we receive your initial application, we will:
acknowledge it within five working days
submit your application to a panel for consideration
notify you of the in-principal outcome within 14 days, and give you a deadline for your final paperwork
If you are interested in using Tindal Square but need some support to develop your idea, you can attend an Ignite Collaborative Hub Meeting or contact hello@ignitechelmsford.org.uk.
Ignite can help you connect with other organisations who have ideas, knowledge, resources and experience in organising creative and cultural activities.