Before applying for one of our vacancies, you should read the job pack for the role. This contains the job description and person specification we are looking for. You should base your application on the information in the job pack. We do not accept CVs as a form of application.
There are occasional maintenance periods for the job website and application form. These usually happen between Friday to Sunday. If this is the case, you will not be able to access the site to complete your application. We will extend the application period for all roles affected by any downtime.
All applications are subject to our Applicant Privacy Notice.
You must complete all sections of our online application to apply for a vacancy with us.
This section asks for some personal information we need to process your application. This includes:
your name
address
contact details
National Insurance number
If the role requires driving, you must add your driving licence details.
In this section, you need to provide details of all employment history for the past five years. This should be in date order with the most recent first.
You should give details for each entry, including a summary of:
your duties
your responsibilities
your achievements
Your history can include educational institutions if applicable.
In this section, you need to list any qualifications you have gained, or you are studying towards. You must list any essential qualifications that are on the Person Specification. You should also provide any other qualifications that would support your application.
For some posts, formal qualifications will be necessary. For all posts, we consider other relevant training whether you acquired it at work, at home or through your social life.
If your training or qualification does not appear on our drop-down menu, you should declare this as part of your supporting statement.
In this section, you should highlight how your experience, skills and training relate to all the essential requirements for the role.
You can reference experience, skills and training that you gained professionally, through voluntary work, personal study or hobbies.
The information you provide here is for monitoring purposes only. We will confidentially store this separately from your application.
Chelmsford City Council is an equal opportunities employer and fully supports the principles of equality in all the services it provides.
In this section, we need declarations around:
criminal conviction
any close friends/relatives you have at Chelmsford City Council. This includes both employees and Councillors
Common application errors
Duplicate contact details (personal details)
This error message appears when you have entered two or more of the same contact details in the personal details section. 
To fix this, check where the duplicate details are. This could be the same address, phone number or email address.  
Once located, select the three dots and delete any duplicates of the correct contact detail. When you have deleted the duplicates, you will be able to go to the next section of the application.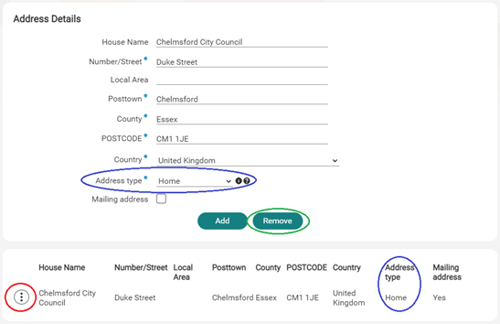 Numerical values (employment history)
When completing the salary field in your employment history, you should only enter numbers. Do not include £ signs or any other form of writing.