Our curatorial team have put together their top ten objects from our collections. Is your favourite amongst them?
Download our guide for a map of where you can find these objects in the museum. 
Chelmsford Sissies
Grayson Perry grew up in Chelmsford and is one of the UK's most prominent and incisive commentators on contemporary society and culture. He continues to make work in a variety of media but is best known for his ceramics. Thought provoking themes for his pots draw on personal and social concerns and are elaborately decorated. 
Chelmsford Sissies was created for an exhibition at Hylands House, shortly before he won the Turner Prize in 2003. The Gallery image shows the pink embroidered dress Claire, his alter ego wore to pick up the prize. Chelmsford Sissies tells the imaginary story of a group of Civil War soldiers led by Sir Thomas Sissye who, due to a cowardly act of surrender to the Parliamentarian forces, were paraded through the streets of Chelmsford dressed as women before being executed. After the war the town commemorated the men by setting up a special festival and each year men would dress up as woman and the 'Sissies of Chelmsford' would parade through the town.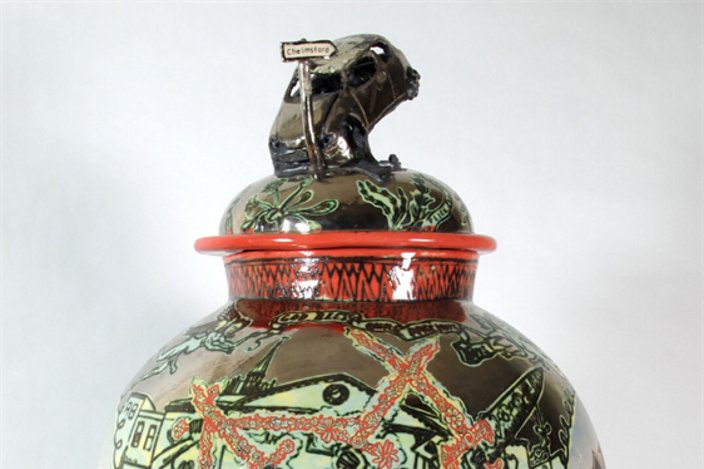 Salamanca Eagle
The battle of Salamanca was a major battle of the Peninsular war, part of the Napoleonic Wars and fought on 22 July 1812 on the Iberian Peninsula, Spain.
Britain wanted to end France's influence in Spain, where Napoleon had put his brother on the throne.
Made from gilded bronze, every French battalion was ceremoniously presented with an imperial eagle by Napoleon, which was then carried on top of the Tricolour flag of the Regiment.
During the battle, the French tried to get behind the British lines but they were over-extended. Despite Britain having a smaller army, the British saw their chance and broke through the French line.
Essex Regiment's most prized trophy, the eagle was captured at sword point from Napoleonic troops by Lieutenant William Pearce of the 2nd battalion,44th (East Essex) Regiment.
The Battle of Salamanca became known as the beating of 40,000 men in 40 minutes.
Only six eagles were captured during the Peninsular wars, and so it became an icon for the Essex Regiment, worn on badges and buttons, unit flags, notepaper, vehicles and sports kit, and continues to be worn by all ranks of the serving Royal Anglian Regiment.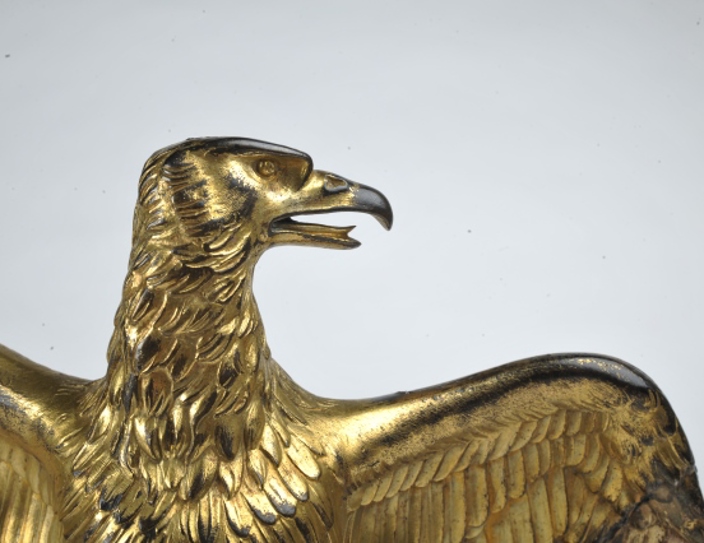 Gold Diadem
Possibly the oldest piece of gold metalwork found in Essex. This exquisite and extremely rare item was found by a local metal detectorist. It is dated to the very beginning of the Bronze Age around 2500BC, and in fact predates Bronze as a metal.
If unwound the gold strip is likely to have been used like a crown or a choker, possibly for a woman but certainly for someone of great power and importance.
It measures 21mm high, 15mm wide and weighs 15 grams. The gold is 96% pure, which is consistent with a Bronze Age date.
It is part of the Beaker Culture, a phenomenon which originated in Spain and Central Europe and swept across the Mediterranean.
The fact that it was found wound up in this tight spiral suggests that it had been ritually decommissioned, possibly buried with its owner – although sadly nothing else was discovered. If not buried with its owner, the Diadem may have been a Votive or gift to a god.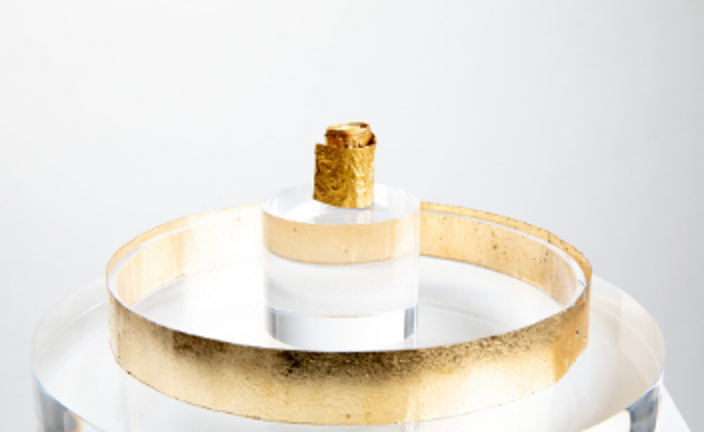 RMS Titanic's Radio Room
The original equipment on Titanic was made in Marconi's Hall Street factory.

The rescue mission to save those on board the Titanic was made possible by Marconi wireless equipment. Jack Phillips and Harold Bride, the Marconi wireless operators on Titanic, were able to send a distress signal to the Carpathia which helped rescue survivors.

The disaster showed how important ship to ship radio communications was. Orders for the equipment came flooding in to Marconi's factory in New Street. It saved the company which had been in danger of failing.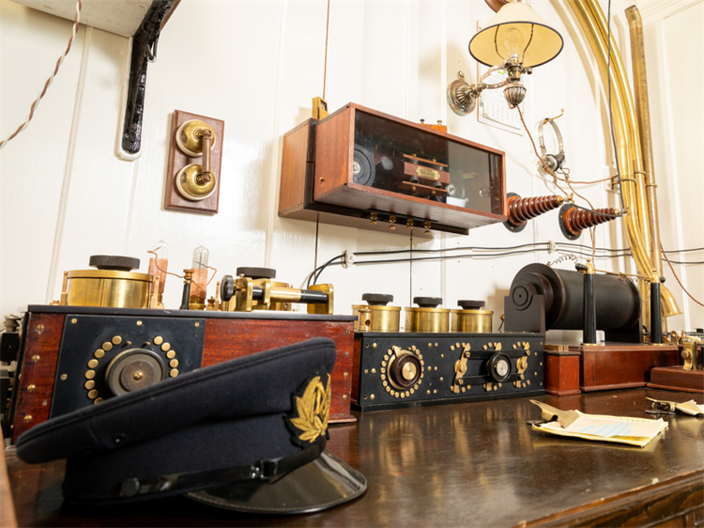 Roman Hoodie
This rare Roman male figurine made from copper alloy was found by a metal detectorist in Roxwell and dates to the Roman period (43- 410 AD). He measures 65mm high and is wearing a woollen hooded cloak known as a Birrus Britannicus which is worn over a short-belted tunic. He carries a quiver over his right shoulder for his arrows.
The character appears to be a hunter, well-dressed for going out into the woods on a cold, rainy British day. The fact that this little piece of portable art is not only incredibly detailed and of fine quality, but also shows a distinctively British character, making it extremely unusual, and suggests that he was made in Roman Britain rather than imported. Characters from this period of Roman rule usually wore clothes of a style from Gaul and the North-Western provinces of the Roman Empire.
Roman Britain was a well-known exporter of quality woollen garments like this, and it is thought that the Birrus Britannicus could be the first hoodie exported to the wider Roman Empire.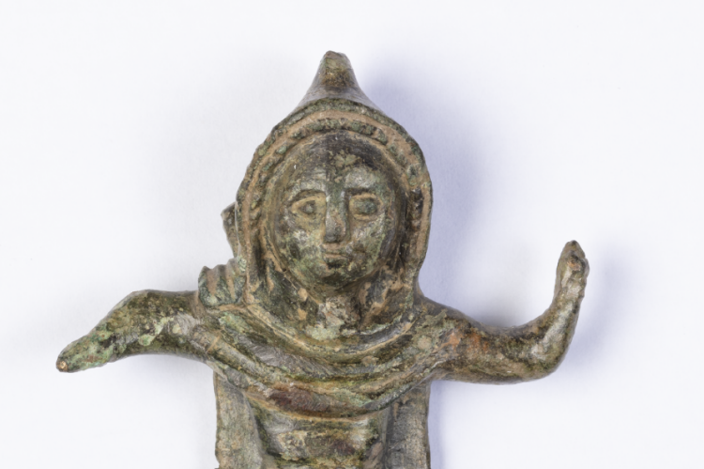 Live Beehive
Over the years our live beehive has become one of our most popular exhibits with families across the generations returning time after time.
The hive is rather like a busy city ruled by the Queen bee. She lays her eggs and keeps the hive under control. The worker bees build the nest, look after the young and forage for nectar (sugar) and pollen (protein and oils) from the plants and flowers outside the museum. The drone bees look for a mate for the queen bee. Inside the hive the worker bees build hexagonal (six sided) cells from wax, called honeycomb. Hundreds of these are packed together to make the nest. The Queen bee uses some of these hexagonal cells to lay her eggs, others are used to store honey.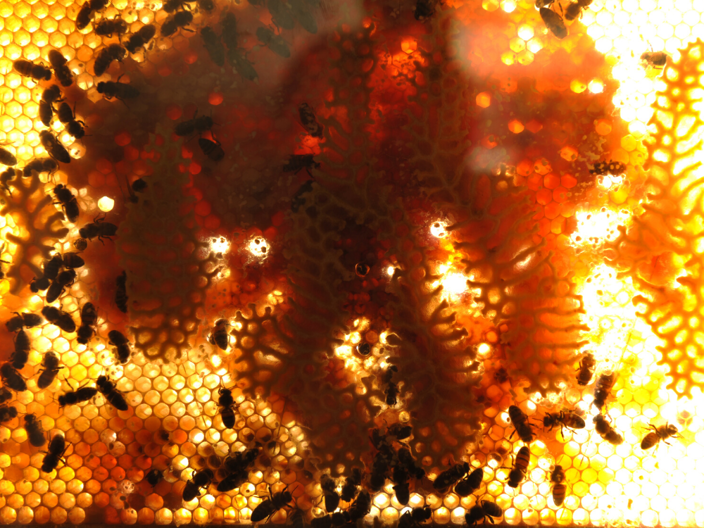 Suzi Quatro's jumpsuit
The American glam rock star, famous for her black leather jumpsuits, made Chelmsford her home in the 1980s.


Suzi formed her first band, "Suzi Soul and the Pleasure Seekers" in 1965 with her three sisters. The group disbanded in 1970, but not before they had entertained troops in Vietnam. Later she came to the UK and signed under RAK records.
She has had string of British hits such as "Can the Can", fronting her own band, usually dressed in leather. "My first leather jumpsuit was made for my first number one: Can the Can, it was only to the knee and worn with snakeskin boots. Every single jumpsuit after that was made with full length legs". The jumpsuit pictured dates to 1975.
Since then she has sold over 50 million records, featured in the TV hit Happy Days and DJ for BBC Radio 2.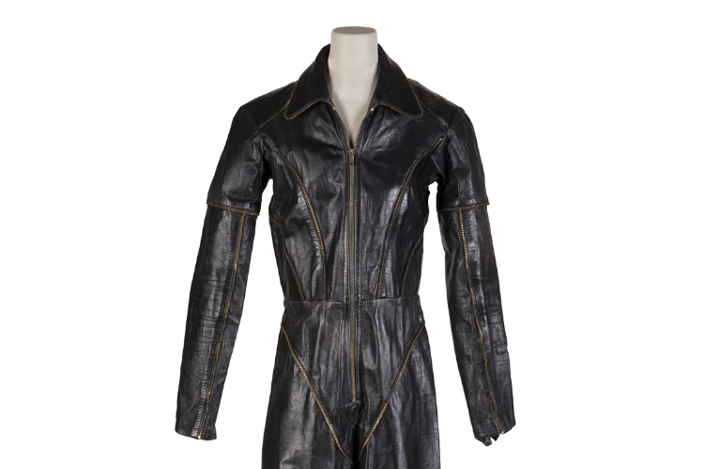 Broomfield Burial
The burial site was discovered by workmen in 1888 whilst digging for gravel behind Clobb's Row in Broomfield. After digging about 6 or 7 foot down, the workmen came across a rich Saxon burial, which included a 3 foot long iron two-edged sword in a wooden sheath, a gold and garnet jewel in the shape of a four sided pyramid and a gold and garnet plate from a buckle. No bones were found, it is thought that the body was placed centrally in a wooden coffin or chest and burnt.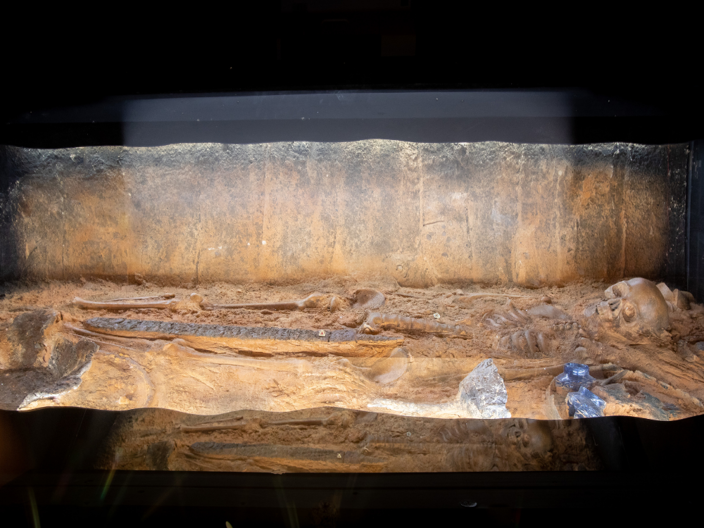 Boris the Bear
Chelmsford Museum was founded in 1835 by the Chelmsford Philosophical Society, and subsequent philanthropic contributions. Building on this Victorian legacy a large collection of taxidermy was left to the museum in 1932 following the death of Dr John Henry Salter (1841- 1932). The GP lived and worked in Tolleshunt D'Arcy, near Maldon and was a freemason, sportsman, sporting-dog breeder and horticulturist.
He enjoyed big game hunting and visited Russia on several occasions to hunt for Bears, Wolves, Elk and Lynx.
One of the museum's surviving specimens of the Salter collection which remains a favourite to this day was from a Russian hunting trip in 1905, affectionately known as Boris.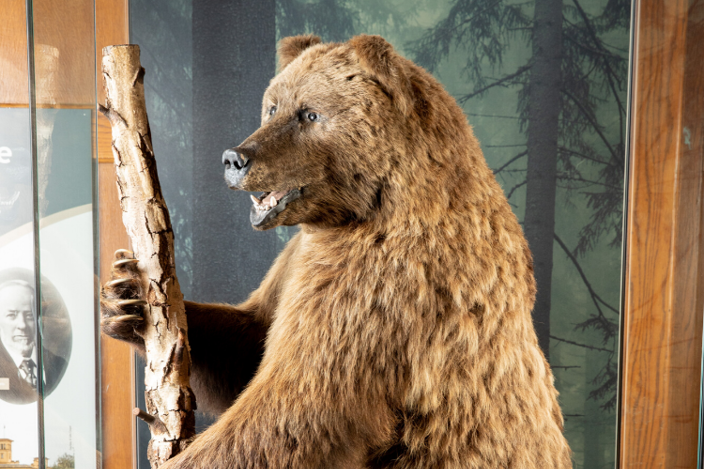 'Shire Hall' by Philip Reinagle. Oil on canvas 1794
Philip Reinagle (1749 - 1833), was an English painter and member of the Royal Academy. 
Shire Hall still stands at the top of Chelmsford High Street. It was designed by John Johnson, and opened in 1791. It has been used for law courts, a market hall for corn and an assembly room.