Panel Discussion: Digital technology, Art and Storytelling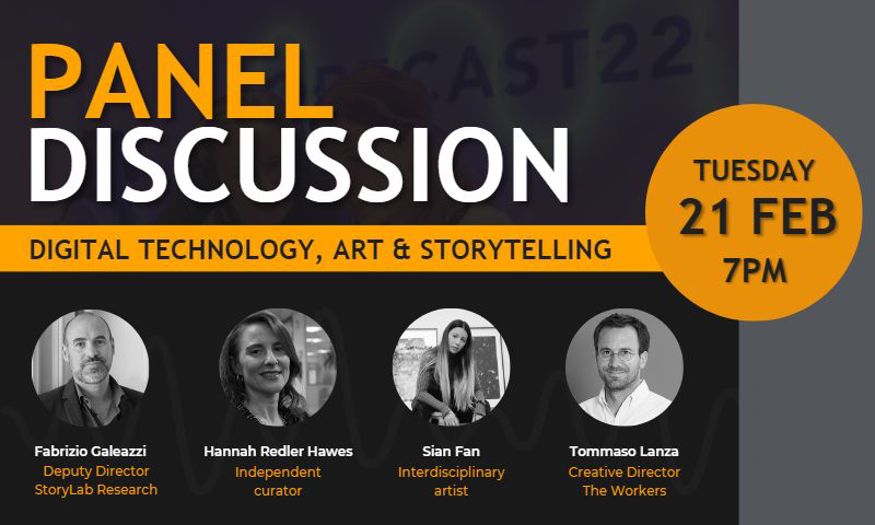 This panel discussion is being held at Patch, 5-6 Grays Brewery Yard, Springfield Rd, Chelmsford, CM2 6QR.
Join us to explore how art and digital technologies are being used to tell stories and connect new audiences with our history. Chelmsford City Museum hosts a panel of leading artists, designers and researchers discussing the power of digital media and immersive experiences to reveal our heritage and explore identity in new, creative ways. 
 This event supports Forecast22: Broadcasting across the ether, a digital artwork and interactive website by Sian Fan, celebrating the centenary of the first UK public radio broadcasts. On display at Chelmsford Museum until 12 March 2023.
Drinks will be available at the bar.
Speakers 
Sian Fan, artist 
Sian is an interdisciplinary artist and is creator of Forecast22: Broadcasting across the ether, Chelmsford City Museum's current exhibition. Her practice explores the intersection between physical and virtual worlds through, sculpture, performance, virtual and augmented reality. She has exhibited internationally including Tate Modern, FACT and the V&A as well as producing work with Channel 4, the BBC and Facebook/Meta. 
Fabrizio Galeazzi, Deputy Director of StoryLab Research Institute 
Fabrizio is a cultural heritage and creative technology scientist. His research explores the combination of 3d interactive visualisation, immersive technologies and storytelling to develop solutions for preserving and revitalising heritage. StoryLab projects have included working with the UK Antarctic Heritage Trust to create Immersive Antarctica and the Kusunda community of Nepal in a project to preserve their Indigenous language which was at risk of disappearance.
Tommaso Lanza, Creative Director The Workers
Tommaso is a designer and co-founder of The Workers, an award-winning London based creative technology studio. The studio uses the full spectrum of digital technologies to create environmental installations, AR and VR, live events, storytelling and playful experiences. They have worked internationally including with MOMA, V&A, Tate, Google, Nike and the Barbican. 
Chaired by
Hannah Redler Hawes, Independent curator / Director of Data as Culture at The ODI (Open Data Institute) 
Hannah specialises in practices that intersect art, science and technology. Hannah was previously Head of Science Museum Arts Programme. She has curated award-winning projects for organisations including Kunst Leuven, Science Gallery London, the Institute of Physics & Tate Modern. The Data as Culture contemporary art programme collaborates with artists interested in working with data, people and network culture. 
Venue
Patch, 5-6 Grays Brewery Yard, Springfield Rd, Chelmsford, CM2 6QR