The Children and Authors' Literary Fanfare Event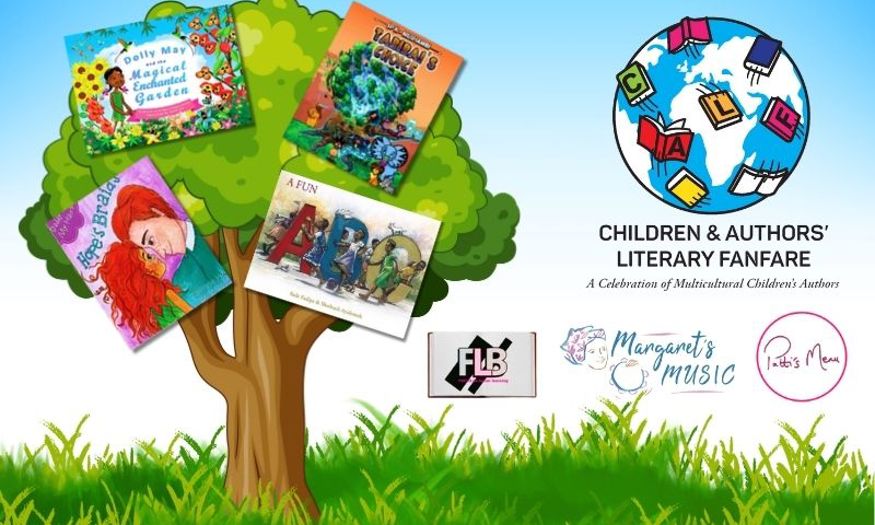 Wonder Books & Magical Reads in the Wells Suite
(Free, drop-in, each event has a capacity of approximately 20) 
10:30–11:20: Storytelling: Tarirai's Choice by SP K-Mushambi, followed by a workshop (Ages 3-6yrs)
11:30–12:20: Storytelling: A Visit to Grandad by Sade Fadipe, followed by a workshop (All Ages)
12:30–1:20: Storytelling: Dolly May & The Magical Enchanted Garden by Carrol Nelson, followed by a workshop (Ages 8-10yrs)
1:30–2:00: Utensils from the past and exploring spices with Patti Sloley (All Ages)
2:30–3:00: Storytelling: Hope's Braids by Florence Olajide
3:10–3:30: Games with Margaret's Music
Games, Workshops and Creativity in the Pertwee Room
(Free, drop-in, each event has a capacity of approximately 20) 
11:00–11:20: Mancala with Sandra Smith and Datonye Adjei (Ages 6+)
12:00–12:20: Mancala with Sandra Smith (Ages 6+)
1:00–1:30: Book cover creativity with Datonye Adjei and Indigenous Games with Sade
2:00–2:30: Indigenous Games with Sade
Margaret's Music for Under 5s
(Paid, on site by card, capacity of 8 children)
Our Chelmsford Gallery
£2.50 per child
Patti Sloley – utensils from the past and spice workshop
(Paid, on site by card, capacity of 8 total)
Victorian Kitchen
£2.50 per person
The Fashion and Costume gallery will have dressing up available all day.
All children must be supervised by an adult. 
In collaboration with Chelmsford Museum, The Children & Authors' Literary Fanfare Event (CALFE) founded by local author Sade Fadipe will be live in Chelmsford this October.
Previously run online during the pandemic, CALFE will now host an in-person event with children's authors, storytellers, and artists for children aged 3–11.
Sade and her creative team's mission is to celebrate cultural heritage through children's literature, enticing all children to read books that are mirrors, windows, and doors to familiar and unfamiliar worlds. The CALFE organisers understand how providing children with positive role models and boosting self-esteem is vital to achieving their full potential.
The author events will be held in the Wells Suite, featuring readings by local author Sade Fadipe (A Fun ABC/A Visit to Grandad), and her guests:
SP K-Mushambi (Author, Tarirai's Choice)
Carrol May Nelson (Author, Dolly May and the Enchanted Garden) 
Florence Olajide (Publisher, Hope's Braids)
Joining them are:
Patti Sloley author, Plate in the Sun, hosting 'Utensils from the Past & the Spicy' Workshop in our Victorian Kitchen (booking required) and Wells Suite (drop-in)
Margaret's Music Ltd - hosting 'Interactive storytelling and Puppetry' for under 5s, in the 'Our Chelmsford' Gallery (booking required) and Parachute Games in the Wells Suite (drop-in)
Sandra Smith with Indigenous Mancala & Motivational Games in the Wells Suite (drop-in)
Datonye Adjei with Book cover Flower-Craft in the Wells Suite (drop-in)
Dressing up in African Ankara print and colourful attires for ages 4-8 in the Fashion Gallery (free access)
Promotion Partners include:
The Kiddie-Writers Forum
New Generation Development Agency (NGDA) Essex
Black and Being Essex (B.A.B.E.)
Preen, Founder of B.A.B.E (Black and Being Essex) alongside Chelmsford Museum volunteers with be on hand to host the event.
All sessions in the Wells Suites are free to attend, but booking is recommended.