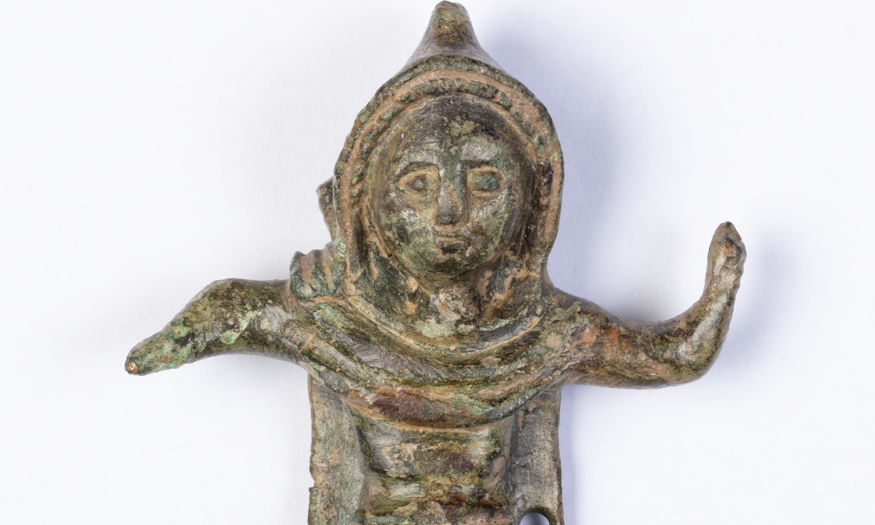 Chelmsford Museum welcomes new definition of 'treasure'
Chelmsford City Museum says today's changes to the Treasure Act will help them to save more important finds for the public. For the first time, the official definition of treasure won't be based solely on the material an artefact was made from, making it much easier for items of national importance made of non-precious metals like bronze to go on public display. 
In 2017 Chelmsford Museum almost missed out on a hugely significant find – which is now one of the star pieces in their Roman gallery. An exceptionally rare Romano-British figurine wearing a hooded woollen cloak called a Birrus Britannicus was found by a metal detectorist in Roxwell. The tiny statue is a unique depiction of someone wearing a distinctively British garment, providing a vital insight into daily life in 4th century Britain. 
The statue was made from copper alloy, so it didn't count as treasure despite its great cultural value, and the finder decided to sell it abroad. The Arts Minister stopped it from leaving the country until a UK buyer could be found, which gave Chelmsford City Museum the time it needed to raise the necessary funds. The Roman 'Hoodie', as it is affectionately known by the museum, is now a key part of it's collection, giving visitors a tangible link to past residents of the city. 
Chief curator, Dr Mark Curteis says this new definition of treasure will benefit museums across the country:  
"Classifying finds as treasure based on their cultural and historical importance will give local museums a real boost, allowing objects like our Roman figurine a much greater chance of staying in the places where they have most relevance.  
We could so easily have missed out on the opportunity to keep the Birrus Britannicus figure in Chelmsford; so often, the value of an object doesn't just lie in the material from which it was made, and these changes will automatically put us at the front of the queue when any exciting finds are made in our area." 
You can find more information on the Government's response to the consultation on the revision of the 1996 Treasure Act.