Curator's Blog: Behind the Rainbow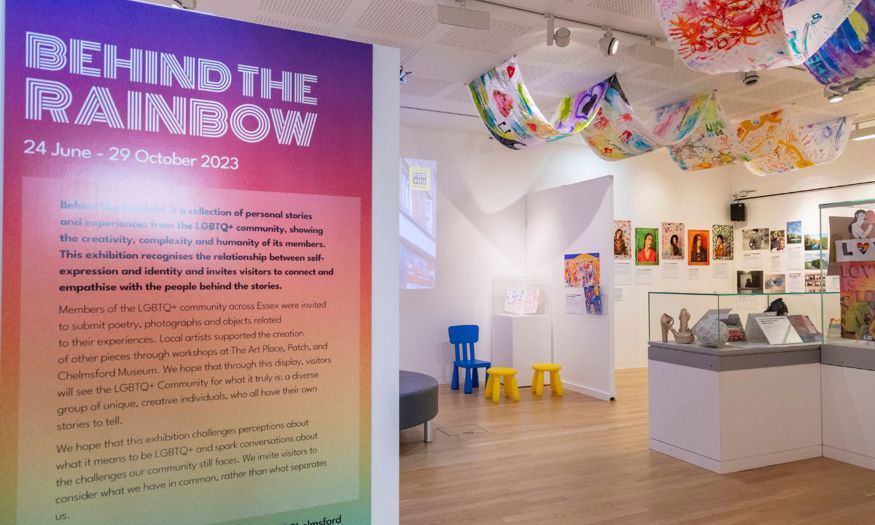 By Claire Willetts, Curatorial & Learning Officer
The stories told in museum exhibitions are often interpreted by a curator, those who have studied and researched a subject in significant detail, and hopefully condensed all that information into a manageable and accessible narrative.
Our latest temporary exhibition, Behind the Rainbow, was an opportunity for us to create an exhibition in a less conventional way. To work with and involve the people and communities whose stories we were seeking to tell. In January 2023, Chelmsford Museum and Essex Pride launched an open call to artists, photographs, writers, or anyone from the LGBTQ+ community and from or living in Chelmsford who wanted to tell their story – or an ally sharing LGBTQ+ histories.
It soon became apparent that not only were the works offered extremely varied, but deeply personal and powerful stories, and we had a huge responsibility to display them well and give them the space that they deserved. We asked participants to write their own object labels, so their photography, digital art piece or item could be described using their own voices. I was amazed at how generous and open participants were with their submissions; receiving their work and stories for the display felt like a real privilege.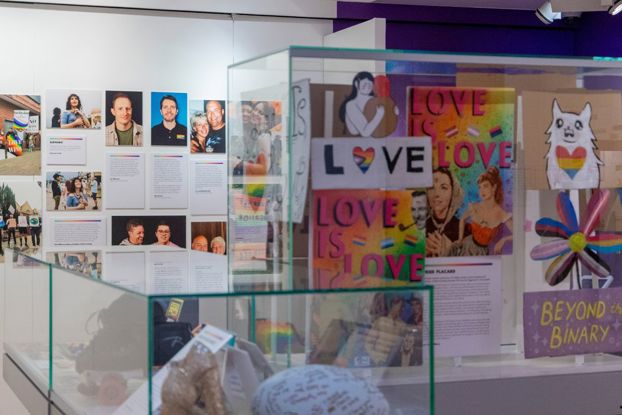 Working with Essex Pride as a co-curator for the exhibition alongside their Community Engagement Officer, Sofia Rojas, was invaluable. This was Chelmsford Museum's first fully co-curated exhibition. Sofia's connections with those interested in exhibiting, as well as her knowledge, helped us navigate how to portray the stories and issues involved. Poems, portraits, and painted fabric that were included in the exhibition were created in supporting workshops organised by Sofia as part of a programme of events under the brand Always Proud.
Having the chance to meet many of those who had submitted work on our launch evening was fantastic. It is empowering seeing your own story or work of art on display in a museum – the pride and joy experienced by those attending was clear to see and infectious for those of us who had worked on the project! It also takes courage to share your creativity in a public space, and the support participants gave each other was inspiring. It is this courage and support that will hopefully be one of the legacies of this exhibition for contributors, staff and visitors.
Moving forward, co-curator Sofia Rojas notes, "We can show support by trying to understand, learn and, above all, respect all individuals. Everyone deserves to be seen and respected." It is this legacy that we aspire to for visitors who come to see the exhibition.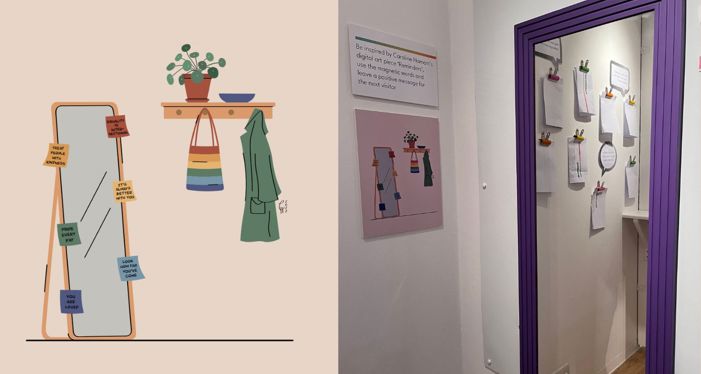 One of my favourite works submitted for the exhibition was a digital art piece called Reminders by Caroline Hamam. It features a mirror surrounded by post-it notes with kind, supportive and positive messages to read at the start of your day. It inspired an area in the display for visitors to leave their own messages, continuing the creativity of the exhibition space. Messages such as, "You are you; you are confident, you are fabulous", "We are all creative, we can shine", "I am enough, I belong".
Behind the Rainbow has hopefully shown that by working together through co-curation and highlighting the power of the stories that accompany objects or works of art, we can start to make museums a space for everyone.
We want to make the stories we interpret at Chelmsford Museum relevant, so all communities have a seat at the table, now and in the future. I'm excited to see how we can build on the lessons learnt from this project, creating a real legacy for our collections and communities in Chelmsford.
Come and see for yourself some of the powerful stories and leave your own kind words of support around our mirror! The exhibition runs until Sunday 29 October 2023.