Rosemary Rutherford (Artist)
Location
St. Mary with St. Leonard, Church Green, Broomfield
About
Rosemary Rutherford was born in 1912 in Kings Norton, Worcester, daughter to Revd John Finlay Rutherford and his wife Florence. Rosemary showed artistic promise at a young age and her maternal aunt, Marguerite Milward, who was a renowned sculptor, encouraged her.
After her father became a vicar in Broomfield in 1929, Rosemary attended the Chelmsford School of Art. She furthered her education at the Slade School of Art and Westminster School of Art. Rosemary then taught art at St Cedd's School in Chelmsford until the late 1930s, while establishing her reputation as an artist. During this time, she exhibited paintings alongside important contemporary artists such as Henry Moore, Barbara Hepworth and John Piper. She also exhibited at the New English Art Club and the Royal Academy's Summer Exhibitions.
During the Second World War, Rosemary put her career on hold whilst she helped her father to resettle evacuee and refugee children in Broomfield. However, she continued to practise her art, painting portraits of the children. You can see her painting 'Two Refugees, 1940' in Chelmsford Museum.
Rosemary also recorded the changes happening in Broomfield at this time, drawing wartime gun emplacements, searchlights, listening devices, army drills and camps in the village. This was alongside her wartime service, where she drove a mobile canteen to support gun batteries on the east coast. Later in the war, she joined as a Voluntary Aid Detachment to the Red Cross. She carried out basic nursing duties in Cheshire and Gosport, Hampshire, where she continued to record her wartime experiences in her art.
During this time, Rosemary also started designing frescoes for churches. Initially, she studied the art of fresco in Chichester, before producing a trial fresco of 'The Last Supper' on the wall of the vicarage garden (which was later demolished) in Broomfield. In 1941, Rosemary created a fresco for the ringing chamber of Broomfield Church entitled 'Christ Stilling the Storm'. When Broomfield Church was damaged in 1943 by a bomb falling in the churchyard, Rosemary painted a watercolour showing the damage to the church and the loss of a stained glass window.
After the war, Rosemary re-trained as a stained glass art designer, to help replace windows damaged in the conflict. One of her early commissions was to replace the stained glass windows in Broomfield Church in 1951. She designed stained glass windows for a further 25 churches in England and three in New Zealand.
Rosemary died in 1972 aged 60, and her work was placed in a memorial exhibition at The Minories in Colchester. In recent years, her work has been exhibited in the Imperial War Museum, National Maritime Museum and Chelmsford Museum. Her work has also appeared in Broomfield Church, where conservationists have worked on her fresco and where an exhibition and booklet cover her life and work.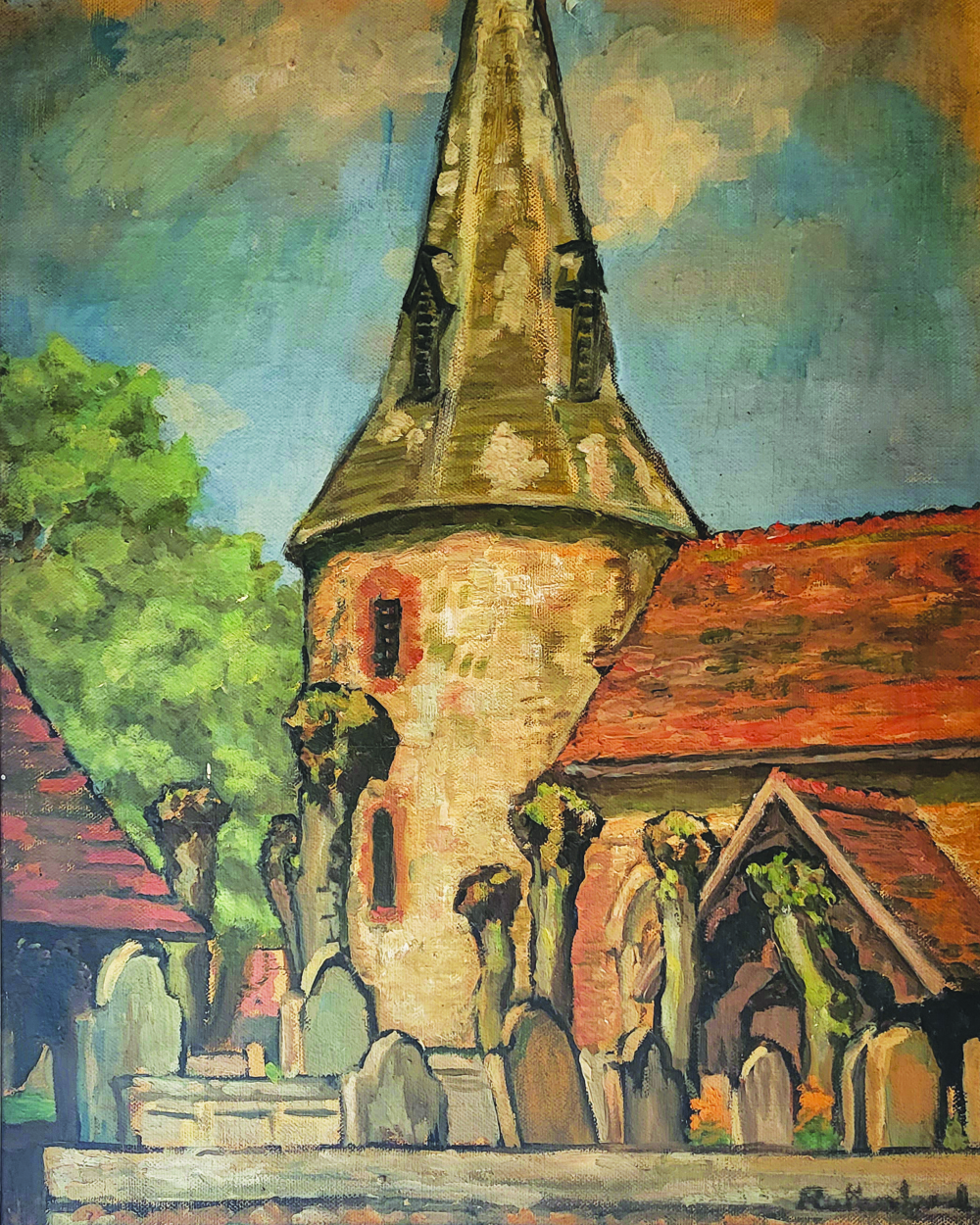 Photos courtesy of the Weston Family Archive.