Special ice skating sessions
Enjoy club nights, family sessions or patch time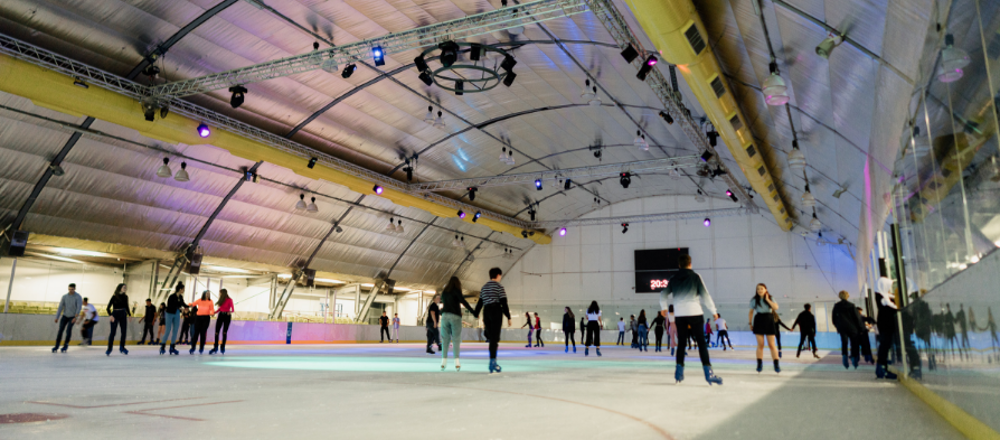 As well as public sessions, the ice rink at Riverside has special sessions for families, clubbers and people who want to develop their skills. We also run  extra family sessions during the school holidays.
For skaters who are Skate Grade 8 or above or above, we offer closed patch sessions where you can develop your skills for tests and competitions. These sessions are not open to the public. 
Sessions run during both term time and school holidays but may differ during the holidays.
All patch sessions are published on our timetable.
Prices
Prices
ourChelmsford Lite card: £6.20
ourChelmsford Plus card: £5.20
You can save money by upgrading to a Patch monthly membership. 
Booking
You will not need to book a patch session in advance. Just get your ticket when you arrive at the centre.
You will not be able to pay by cash in the centre for your patch ticket.
Holiday Skate runs everyday throughout the school holidays, where you can enjoy fun ice skating sessions with your kids.
Prices include skate hire
 ourChelmsford Lite
Standard: £8.50
Family: £25.50
ourChelmsford Plus
Standard: £7.50
Family: £22.50
A family ticket covers one adult and three children or two adults and two children.
We also run Holiday Swim sessions.
Every weekend, Riverside ice rink turns into Chelmsford's premier club. Club nights run on Fridays from 7.30pm to 9.30pm, offering great live music from our resident DJ Edd Nicks. 
Club nights include club classics, chart hits, food and drink at the bar, and chill out areas. 
You need to book in advance for these sessions. Tickets will not be available on the door. 
Club nights are not suitable for young families. Children under the age of 12 must be accompanied by an adult. For family sessions, try our weekend public ice skating sessions.
Only skaters and designated parents and guardians will be permitted in the ice rink area during the disco sessions.
Prices
Prices include skate hire.
ourChelmsford Lite card
ourChelmsford Plus card
All spectators need to pay the full entry price.
You must have an ourChelmsford account to book and attend a public session on the rink, even if you are not a monthly member and you don't live in Chelmsford.
We are a cashless centre.
As we are currently experiencing busy ice sessions, we recommend advance booking. You can get a ticket on the door for some sessions, however we cannot guarantee availability.
You can book:
You can book in advance using an ourChelmsford card:
Monthly members
You will need to book a session in advance.
You will need to check in for your session at the barriers at the bottom of the stairs.
If you do not check-in, we will charge you the full amount for the session.
Please make sure that you have registered your email address with us in order to book online. 
Cancellation
If you can't attend a session that you have booked onto, you must cancel at least two hours before it starts.
You can cancel online or via the app
We will charge you the full amount for the session if you do not cancel in time, or if you do not  attend. This includes monthly members. 
If you have booked in advance, or are a monthly member you can tap your ourChelmsford card, wristband or token on the barrier to go up the stairs to the rink.
If you need to pay for skating you will need to go to reception. This will activate your ourChelmsford card and allow you through the barriers. 
If you have forgotten your card you will need to collect a barcode from reception or a kiosk to get through the barriers. 
If you require use of the lift to access the first floor, you will need to go to reception to activate your ourChelmsford card. 
If you need to collect your card, wristband or token from us prior to the session, please arrive at least 30 minutes before the session start.
Please make sure you read the rule board before going on the ice pad.
Lockers and changing rooms
If you want to use a locker, you will need a 50p coin to release the key. The 50p is non refundable.
Changing rooms are available.
A Changing Places facility is available on poolside or by studio 1.
Clothing
You should wear clothing that is easy to move in but not too loose.
No scarves or hats are allowed on the ice pad.
We recommend that you wear long socks for comfort.
We recommend that you wear gloves when skating.